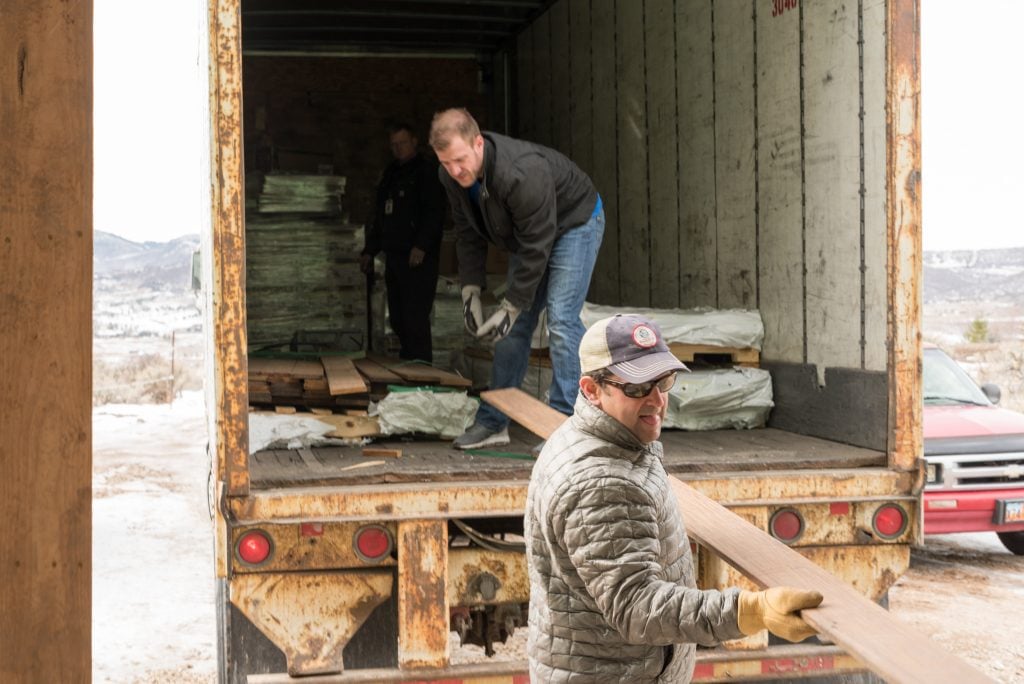 Spring is decking "season" and we have a while to get there. But late December is a great time to think about what wood to use on your next deck. During the springtime, the mills use the vast majority of their day grooving Ipe decking boards which are meant for hidden fasteners. Most of our trucks are usually loaded with Cumaru, Ipe or Tigerwood decking to be moved all around the country and even boats to other countries based on client's request. Just as we have disclosed before on this site, Ipe remains an unquestionable decking material; however, the cost keeps rising year by year. Hence, we are looking towards other possible decking option to Ipe currently, and we felt that it is an ideal time to share the available options with our clients.
A lot of quality tropical decking species with different appearance and performance are available, but, how do you know which species are appropriate for your need?
Ipe Alternatives
Red Balau Decking: This kind is workable than many other similar tropical types of wood. Balau belongs to the Shorea genus – a reason why it shares texture, hue and workability qualities with Mahogany. Balau is relatively hard – when compared to the domestic Hard Maple – durable, and has a regular and flawless color pattern than most other tropical decking woods. Besides, it is half of Ipe's cost in price. For this reason, it has become a great wood in the tropical decking world. However, it cannot be easily seen as Ipe or Cumaru, which makes it difficult for local sellers to find.
Jatoba: Possibly, you might have heard about Jatoba before, and it can even be the one currently used for your house's interior flooring. It is commonly known as Brazilian Cherry. Because of its extreme hardness, it is an outstanding choice for interior flooring work. Also, it is quite resistant against insect and rot – one of the qualities which make it to be very stable. In the long run of use and due to exposure to sunlight, the appealing red color also usually becomes deeper. Hence, the use of Jatoba is an excellent choice to combine your exterior deck with your interior floor.
Tigerwood Decking and Others
Tigerwood Decking: this species is also known as Goncalo Alves. It is famous for its brownish-orange and dark stripes appearance which makes it look like a Tiger. Usually, it can become darker as a deep reddish-brown over time. While the Tigerwood does dry excellently and stays stable for different weather, kiln drying is necessary to attain stability. Although Tigerwood decking is mostly used for decking, they can also be applied to interior works. Due to the variegated stripping, the construction of deck with regular appearance can be challenging when readily obtainable. The most challenging part of a Tigerwood decking is that the stripes are not consistent – while one board may have zero stripping, another may have massive stripping. From our experience, when used as an entire decking, while the smooth surface can be quite pleasurable to a barefoot, it can be slippery.
Massaranduba Brazilian Redwood Decking: Massanduba is also called the Brazilian Redwood or Bullet wood. This species is quite dense and hard. They are usually found large and produce an excellently straight and regular grained board which are ideal for decking. They do occur in red color and do become brown when exposed. Regarding hardness, Massanduba is 20% lesser than Ipe, but it is still much durable. Besides, Massanduba hardly breaks apart when used in climates such as the Rockies and the Southwest. Because Massanduba is more stable under wet environments, they are popular in Europe. It is advisable to consider the climate before choosing Massanduba for decking meticulously. It has a similar price to Cumaru and can be obtained with ease. Also, this kind of wood is an excellent alternative for selective climates.
Garapa Decking: Garapa is another sturdy and dense decking wood. It is commonly referred to as Brazilian Oak. It is lemon-yellow in appearance, and always conspicuous. Clients mostly inform us that although Garapa is stable and handy for decking work, the color remains a "No" for many house-owners. Regarding hardness, it is about 40% less hard to Ipe. However, it remains as a harder wood than most domestic species. In fact, it belongs to the rating of class-A woods among the South American decking woods. Also, the color issues are mostly resolved with dyes or stains to give Garapa an Ipe-like appearance.
Cambara decking: they are also mostly categorized as a variant of Mahogany because they possess identical attributes such as reddish-brown hue and open grain. In truth, Cambara is not ideal for decking because of its irregular presence in Brazil and grade inconsistency. It has only been mentioned here because some people used to make use of it some years back but not anymore.
Perfect Woods for Decks
Cumaru against Ipe: Ipe is one of our most popular decking products, and it is specialized upon by Ipe Woods USA, as the name says. However, we also engage in the shipment of Cumaru, Red Balau, Tigerwood, and Jatoba of various sizes. For the Tigerwood decking, we store them in a relatively lesser amount but can be obtained in whatever quantity based on a request. Also, because we are aware that the other options stated above are workable species, we do supply them in whatever quantity our clients order for.
From our several years of supplying decking materials, Ipe has remained as an excellent product beyond others; hence, we have continued to use it as our flagship offering. However, due to the increasing cost of Ipe, we have started to engage in massive stocking position in other species as an alternative, and so far, our clients have been grateful for our new approach. Apart from the tropical decking woods, we are also ready to serve your needs concerning decking materials. Basically, in a case where our client demand for a specific kind of wood, we are always prepared to stock as demanded.
Nevertheless, all of our chosen species have reasons behind them, and most times, we do try to make clients see the reasons why they should choose a particular species over some others mentioned herein. Ultimately, many factors are usually involved in constructing a deck, and your situation may be different from others. Hence, it is advisable to allow us to pick the ideal tropical decking species for your job.
See our Ipe vs Other Hardwoods Page.