How much does Ipe cost?
Ipe is priced according to market demand and supply. At any given time, it may fluctuate due to market conditions. It also matters what quality and length, as low-grade boards or short boards can be much less expensive. Ipe costs are usually around $2.50-$3.00/LF for 1×4 Standard boards. Today the cost of Ipe might be different than tomorrow; you really need to get a quote as the prices change by market demand and inventory. But you also have to understand if you are comparing it to other woods, Ipe lasts up to 75 years! So it's not really fair to compare Ipe on a price per linear foot basis. To be more specific and try to answer that question, Ipe costs start at about $2/linear foot for 1×4 and go up from there. That would mean that it would be about $6/square foot.
---
How do you pronounce "Ipe"?
Ipe is actually pronounced E-Pay. The word is Portuguese so it's not said how it is spelled. But don't worry, no matter how you say it we will know what you are talking about! Use the sound clip below to hear how it is said.
---
Can Ipe be used around a fire?
Yes! Ipe has up to a Class A fire rating which is the same as steel or concrete. It is the perfect natural option around a fire. 
---
Can I buy already weathered Ipe?
Ipe that is weathered may be available; contact us for details.
---
How can I treat my Ipe to get a weathered look?
If you want that, look, you do not treat it with anything other than end sealers, and it will naturally turn grey. Not only that if you decided to, but you can also bring it back to a beautiful brown. Ipe can last up to 75 years untreated.
---
Why Choose Ipe?
In our opinion, it is the best wood all around.  The perfect mixture of the most durable, lowest maintenance, best-looking wood mother nature makes. Withstands splintering or checking looks beautiful in its natural state or treated. Same fire rating as concrete and bugs don't like eating it! Also, visit our what is ipe decking page if you have more questions.
---
Does Ipe Float or Sink in Water?
The specific gravity of Ipe can vary between 0.91 and 1.12, indicating that certain pieces will float while others will sink.
---
Kiln Dried vs Air Dried
Ipe is most commonly used for outdoor applications. This is due to the durability and longevity of the material. Ipe is best used with an outdoor application when it is air-dried or kiln-dried. The moisture content of air-dried Ipe is usually around 18% this is perfect for outdoor application. It will keep the wood stable in heat, rain, wind, and cold temperature swings and maximize the up to 75-year life of this wood. When Ipe is kiln-dried, the moisture content is reduced to around 8-10%. Kiln-dried usually costs a bit more. The thing is that Kiln can be used anywhere, but air-dried is usually only used outdoors. However, if you desire kiln-dried, we can usually accommodate that also.
---
Ipe Vs Other Hardwoods:
IPE IS THE BEST WOOD. ESPECIALLY FOR OUTDOOR APPLICATIONS. HERE IS WHY. Click Here.
---
What color variations does Ipe have?
Ipe can vary greatly from batch to batch and board to board. We do our best to prevent major color differences in our orders, but we do not color match. Remember, the wood is natural, so it varies.  If you are treating the wood, this may matter a bit less. Ipe color can vary, as you see here. Sometimes orders will look much more similar, and sometimes, they will be very different. If you want to match color, you should order more to ensure you have a better selection, or you can cull boards that are too drastically different. There is not standard Ipe color.
Ipe Color Variance Example: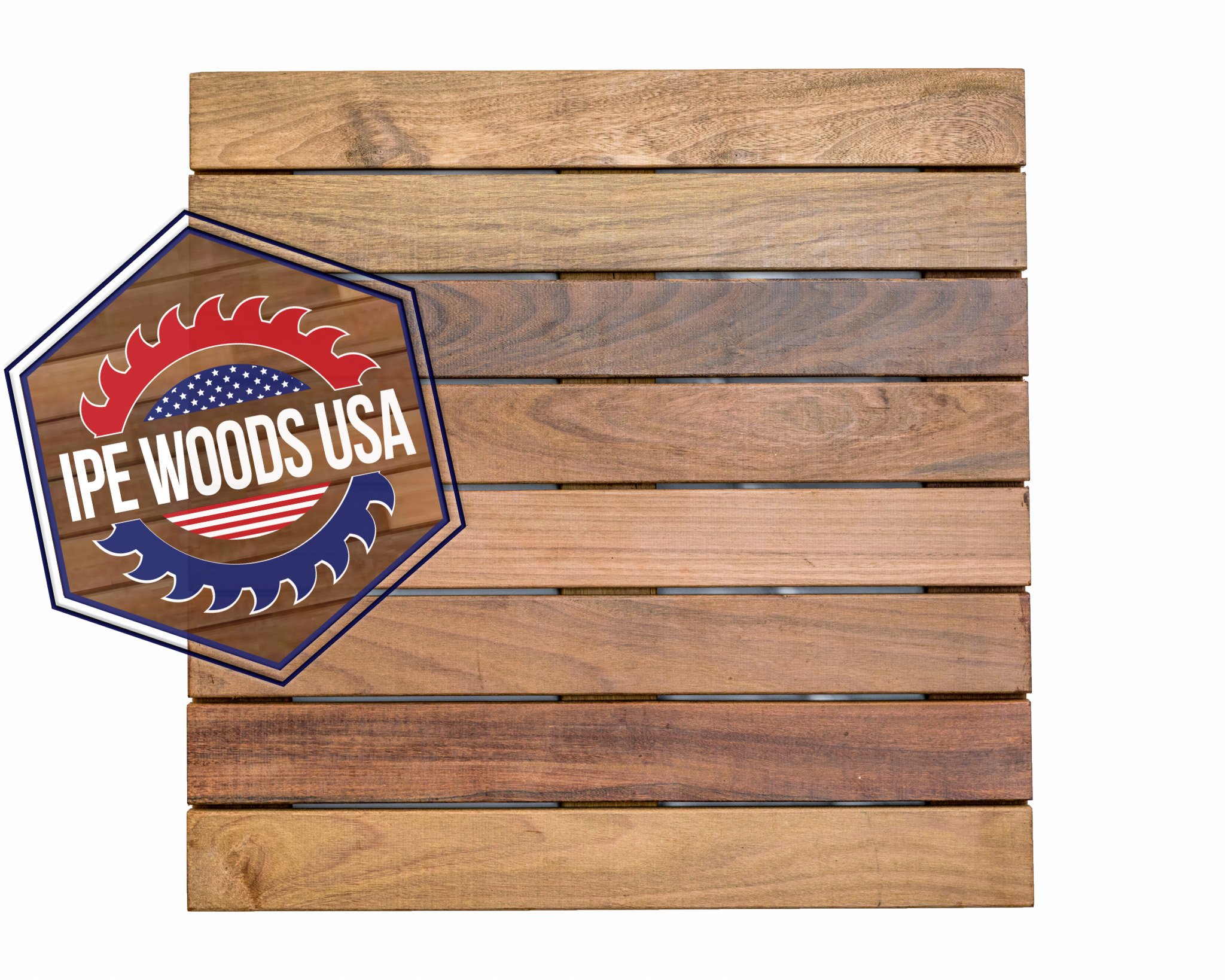 ---
How long does Ipe last?
Depending on exposure and treatment, Ipe will probably last your lifetime. It is the longest-lasting outdoor wood; it can last up to 75 years.
---
Is Ipe natural wood?
Yes, Ipe is real wood, and it comes from real trees! Ipe is not a brand but an actual type of tree and lumber.
---
Is Ipe the hardest wood?
Ipe is not the hardest wood. But it is the hardest wood that is typically used for decking. Interestingly enough most of the harder woods are sold by the pound and not by the linear foot. They are used frequently for instruments. As far as decking, siding, or fencing then yes, Ipe is the hardest used for these applications.
---
Is Ipe the same as Ironwood?
Ironwood is more of a classification, stating the wood is extremely dense. There are a few different types of Ironwoods, but yet Ipe is one of them. There is also a brand that is similar that is used as a trademark for referencing their Ipe.
---
Which deck material is the best?
Hands down, Ipe is the best material you can use for a deck. Of course, the "best" is subjective to some degree. But Ipe is generally, the hardest, longest-lasting, and most desired material for decks.
---
Is Ipe the same as Brazilian Walnut?
Like many things, Americans try to make American names for things that are not American. Ipe is the exact same thing as Brazilian Walnut it is just a name someone made up because Ipe is a Portuguese word. 
---
Does Ipe get hot?
Yes, when the heat is applied everything gets hot including Ipe. But Ipe does have a more desirable dissipation of heat than its competitors.
---
Do you need to stain Ipe?
No, you do not need to stain Ipe. However, if you want it to stay brown, red, and dark you will need to apply a U.V. Coating. We recommend for maintaining this color that you use Messemers U.V.
---
Can Ipe be stained?
Ipe is so dense that staining it doesn't really work the same as other woods. but you can certainly use a protective coating that looks and acts like a "stain". Again this would be Messemers U.V.
---
How do you clean Ipe?
Some people use power washers and brushes. We recommend using Messmer's WDA-1 Wood Cleaner for cleaning. Additional cleaning information can be found here.
---
Does Ipe need to be sealed?
Ipe does not need any "sealer" in fact the wood is dense, so it doesn't really take sealer anyways. The products used on Ipe are not really sealers as much as UV protectants. It is the sunlight that turns Ipe grey, and using these products can help protect against that. However, we do recommend sealing the ends of the boards. The part where the grain is exposed can split easier if not sealed. We do this on most orders at the mills prior to shipping, But if you cut the boards take this into consideration.
---
Where is Ipe Grown?
Ipe comes from Central and South America. The hostile climate in these areas makes the trees grow dense wood. Nearly all of the Ipe we sell comes from Brazil. It is the most popular of the countries to export lumber from.
---
What is IPE an abbreviation of in lumber?
The word Ipe is not abbreviated, this can be a common misconception. The word is Portuguese and outside of the lumber world not well known. The official name of Ipe is Tabebuia Serratifolia so the word Ipe is just commonly used to reference that. Tabebuia Serratifolia is native to the Central and South American regions of the world.