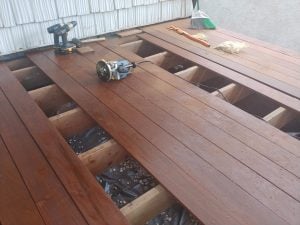 In our other posts and emails to customers (make sure you sign up for out list), we have disclosed tropical decking options, the pricing fluctuations of Ipe, and its importing seasons. On this page, we will be sharing some challenges which one can encounter during installation or while using tropical hardwood decking lumber such as Ipe and Cumaru.
The challenges of Ipe Wood
Most of the decking lumber is usually quartersawed in order to enhance the stability of external lumber and to display a regular vertical grain stripping on the surface. This method does expose most of the interior structure of the tree, known as the Medullary rays. These rays are responsible for the movement of nutrients from the tree's outer layers to the inner layers. The rays are always dense and do not level or smooth with ease.
Consequently, the quartersawed boards do requires some final touches with a sander to make them smooth even after being milled. This attribute is not a lumber's imperfection; instead, it is a natural condition of its structure. While such features are not unique to tropical hardwoods, they are more recognized with them due to their hardness than pressure-made lumbers or softwoods such as Cedar.
Ipe Wood challenges due to Warping
Whether Cumaru, Ipe, or pressure-made pine, they all have a high amount of moisture content than the lumbers used for internal designs. These decking materials are usually air-dried, which makes them possess 14-18% of moisture rather than being kiln-dried. To ensure the stability of outdoor products, such moisture levels are essential. In a case where the boards are kiln-dried to a moisture level below 8%, such boards are usually moisture-demanding and tend to absorb moisture when taken to a humid environment or during a rainy period. Through the use of higher moisture content, large swings of the moisture content can be prevented and consequently curb a rapid enlargement of the wood.
Nevertheless, different atmospheric conditions will react to such a state; hence, the acclimatization period is essential. Endeavor to keep your decking lumber away from direct sunlight and make provision for sufficient airflow for a period of two to three weeks within the same climatic condition as the project site. The implication is that it permits the wood to reach equilibrium with local situations. The wood can enlarge or shrink to 1/8" on a 4" wide board and ¼" on a 6" board during the period of acclimatization. Hence, it is crucial to allow the wood to move before screwing to form a sturdy sub-structure.

Sealing Ipe Decking
The use of an end grain sealer – a wax-based coating – does help in slowing down the rate of moisture absorption and loss from the base of the board. Once it is applied on the deck, appropriate base-side ventilation will enhance the airflow all through the deck's life, and as a result, it is necessary when performing deck design. This act is even more essential for ground-level decks because the airflow will allow the entire deck board to enlarge and shrink in a balanced form as time goes on.
Also, the use of proper end sealant should be applied when the boards are slashed in length. Wood is more likely to absorb and lose moisture quickly at its base. And every time the new end grain becomes exposed, the moisture level will change soon at the spot of cut. However, the use of end-sealant will reduce the rate of moisture change. Otherwise, a quick adjustment will result in splitting, and checks will appear on the board – one which is never appealing.
Ipe challenges as a result of Hardness
Most of the tropical woods, including Ipe, Tigerwood, Massanduba, and Cumaru are thick and hard. Most dense woods will become fragmented easily when not correctly pre-drilled, and they require sharp tools to work on. It is advisable to pre-drilled all decking before applying screws; however, they are not like the pressure-treated woods, which will compress with ease while applying screws. It is essential to drill for larger holes, and it is only big cordless drills and drivers that can provide the force needed to drill into a board six times thicker than pressure-treated pine. Endeavor to consider the additional time and labor required to install the tropical hardwood decks. It is advisable to have some extra drill bits available while drilling. Don't be frustrated if you break a few while installing the deck.
Color Mismatch in Ipe Decking
As a result of a natural developmental condition, several colors are usually seen on wood products. Moreover, as an organic material, they do vary in appearance, which makes them more appealing. Nevertheless, treatment with pressure and staining of specific species do bring together some of these variations. Conversely, somewhat, composite decking is usually dyed because of uniformity; hence, house-owners who are familiar with decking can be surprised when their bunch of tropical hardwood appears in more color than expected. For instance, Ipe can be seen growing across a vast space of land. Once it is carried into sawmills and distribution centers, logs from different locations are combined as one. These different locations can possess various factors that can affect the development and hue of the tree while still growing. And so, after they are combined, variation is mostly seen.
Lumbers, which are recently sawn, can appear differently from the finished material. Lumber does undergo oxidization in the long run. Teak is mostly seen with a color change, but such quality can also be found with other woods. In most situations, the color differences do combine to form a more matching appearance.
Astonishing decks are usually created from tropical hardwoods. These woods stand to become famous for a very long time for two reasons; one, long lifespan, and two, low maintenance.
The stated challenges should not discourage people from using Ipe or Cumaru since these challenges can be resolved easily, particularly when handled by a professional.
Hopefully, the shared information will assist in the easy installation of a tropical hardwood deck. A significant part to consider is that hardwoods are brought from a far distance, and they are slashed way back before their application. Most times, they could have passed through several nations and stored in different lumber stores for months before being transferred by crane or truck. Hence, it should be expected that some boards may require additional work to achieve a smooth surface. Excellent care will be needed to obtain the best color match and design. Eventually, the extra care is the difference between a good deck and a world-class deck.
For proper installation information, visit our Ipe Installation page.