Installing Ipe Deck Options
To achieve the best results possible, follow these instructions when doing an installation of an Ipe wood deck. 
Ipe wood is very hard and dense. They don't call it ironwood for nothing.  You will most likely need specialized/higher grade tools to do get the best results.  Ipe Woods USA is happy to provide you with this guide to simplify the installation process of your new Ipe deck.
Also, visit our common Ipe Deck Installation Problems page for common issues when installing an Ipe deck.
INSTALLING AN IPE WOOD DECK
Before Installing
The saying goes:  Measure twice, cut once.  When installing that gorgeous Ipe deck, it means you need to check with all the necessary municipal offices about the applicable local ordinances and consult with an architect before starting. Each project is unique and has many variables, so you need to test the material for suitability before you start.  Remember to follow all manufacturers' instructions for each product you use.  Failure to do so can create unnecessary problems. If there are differences or contradictions in instructions or building codes from what we have provided you, contact Ipe Woods USA, and we'll help you sort it all out.
Applications
We use air dried Ipe lumber.  Air dried makes it perfect for any number of different outdoor uses, such as planter boxes, outdoor furniture, siding, playgrounds, and of course decks, just to name a few.
You've got Options
You can choose between our pre-grooved Ipe wood decking, or you can go with our standard style.  Either one will be perfect for all of your outdoor needs.
Tongue and Groove Decking
You need to be aware that you should only install tongue and groove Ipe wood decking under a covered porch or a covered patio.  If you install tongue and groove decking without a roof or covering over it, you'll have a lot of problems. Too much water can accumulate, and cause your Ipe wood to buckle, swell and cup.
ACCLIMATION – HANDLE WITH CARE
To acclimatize your Ipe wood decking to local conditions (temperature and humidity levels), it needs to sit in the area where you'll be installing it for seven (7) days before beginning construction (more if you have a drier climate).   Now for several more words of caution:
1)      Don't let the wood sit directly on the ground, or on a concrete surface.  It should be stored at least 12 inches off the ground as it becomes acclimatized.  Make sure the bottom boards get enough ventilation by storing them on blocks of wood.
2)      Don't store the Ipe decking lumber for more than 30 days without double checking with us at Ipe Woods USA.
3)      Don't cover the Ipe lumber with a tarp or plastic.  This will trap water and moisture can create stability issues.  To keep the wood dry during the acclimation process, cover it with plywood.  You need to keep it dry until it's installed.
4)      Don't store your Ipe wood in a garage or any other enclosed space.
To allow for proper ventilation of the wood, separate the layers of boards with wooden shims.
THE PITCH
To keep the house from being flooded when it rains, you need to make sure the substructure is pitched away from the house.  For proper drainage, on standard and pre-grooved Ipe decking, the rule of thumb is a minimum ¼" pitch per ten feet of decking.  Tongue and Groove decking needs a more aggressive pitch.  For optimal results, we strongly suggest going with a pitch of ¼" per foot slope. The framing material goes in with the crown (humps) up.  It helps with draining water. A standing puddle of water on the deck can cause the surface to cup.  The framing lumber can crown at 1/8" and lead to standing water.  Don't install hardwood decking over a concrete pad, doing that can cause moisture retention, which, in turn, causes the deck boards to cup or crown, or both.
THE GAP
You need to leave a gap of 3/32" between the boards as you install the Ipe decking.  This allows the boards to expand and contract depending on what you used and the environment where it's installed.  This also gives the necessary ventilation.  More than likely you'll get some shrinkage, but how much varies depending on the use, local climate, and installation site.  Four inch wide boards usually shrink about 1/8", and six inch boards shrink about ¼".
AIR FLOW
Design your deck to allow for adequate air flow underneath.  This will add stability, eliminate cupping and surface checking and minimize the Ipe wood's natural movement.  The best option is at least 18" of open air under the joists, and open sides to allow cross ventilation, .If you want to have skirting, make sure it doesn't block the air flow.  Make sure water doesn't collect under the deck.  The ground needs to be adequately sloped to allow water to drain away.  Once again, we want to reiterate, DON'T build your Ipe wood deck over a concrete pad.  Ever.  Doing that will create water retention, and cause the boards to cup and crown.
SAWS AND DRILL BITS
As we noted at the beginning, they don't call Ipe lumber ironwood for nothing.  The hard, dense structure of Ipe plays hell on standard saws and drill bits.  For sawing, go with premium carbide tipped saw blades.  And for drilling, Brad point or Fostner drill bits give you a cleaner hole.
SEALING
To prevent any adverse movement and end checking, we always ship our Ipe deck lumber with the ends sealed with a clear wax.  If you make any fresh cuts, they should be sealed with wax within 24 hours with an end grain sealer.  You can purchase end grain sealer from us in quart containers. That is usually enough to cover about 500 square feet of decking.  The sealant is easily applied with a paintbrush and dries clear.  Another word of caution:  DON'T apply the end grain sealant to the decking surface.  If any sealant gets on the Ipe decking surface, wipe it up immediately.
FASTENING
The best way to fasten Ipe lumber or any dimensional hardwood is with stainless steel fasteners or Protech coated.  If you use any screws or fasteners made of anything other than Protech coated or 305 grade stainless steel, or higher, you can ruin the appearance and finish of your Ipe wood deck.  Anything lower than 305 grade will discolor the wood around the screw or fastener, and the screws and fasteners are likely to corrode and fail.
To fasten deck boards you usually need to pre-drill. When using the Protech coated screws and Camo Edge Fastening system with an expert experience level you can actually not pre-drill. However to ensure you do not crack the wood we recommend pre-drilling.  Pick the screw size and pre-drill the holes.  If you don't, the boards will split and be irreversibly damaged.  With time the boards will become loose.
We recommend you use CamoClip ® hidden deck fasteners.  Using this system keeps the Ipe deck free form blemishes.  The system allows expansion and contraction of the wood without putting too much pressure on the screws. This system also helps keep the wood safe from water damage, and the surface splinter free.  If you decide to use the CAMO® Hidden Fastner system, follow all the instructions that come with the system.
FINISHES
The natural density and alkaline nature of Ipe wood means that many oils and finishes won't work on it. They won't dry properly and that ruins the whole overall effect.   For any product, you plan to use, test it on several sample boards before applying it to your Ipe decking.  The best product on the market is Ipe Oil.  It's formulated specifically for the needs of Ipe lumber.  In most cases you'll only need to apply this about once every couple of years, to keep your Ipe deck that beautiful dark color.  Not continuing with the Ipe Oil treatments means your deck will eventually fade to a lovely silver-grey color.  Either option will still give you a stunning Ipe deck.
If you decide to let your deck to weather, we still recommend you put the Ipe Oil on immediately after installation.  This will help the wood keep its own natural oils and maintain the stability of the wood.   If you use a low ventilation installation, you need to put the oil on all four sides before you install it, but after it's been acclimatized.
GLUES
If you need to glue plugs into deck boards, waterproof polyurethane glues are your best bet.  Epoxy glues are also an excellent choice, and they can be dyed to match the color of your deck.  Epoxy has a very strong waterproof bond that makes it perfect to help you protect your Ipe lumber.
WHICH WAY TO GO?
THE RIGHT DECK STYLE FOR YOU
Traditional Uncovered, Outdoor decks
If you're going with a traditional outdoor deck that's exposed to the elements all year long, either Standard or Pre-grooved Ipe deck boards are perfect choices.  You can't go wrong with either. Whichever one you go with, remember when you install it to leave a gap of 3/32" for your air dried lumber, and 1/4" for kiln dried.  The gap allows for expansion or contraction of the wood.
---
Installation Recommendations
The CAMO® Hidden Clip System is the first installation method we recommend.  It leaves the top surface of your Ipe wood deck free of holes.  It's less work and leaves the deck looking better. The system uses plastic clips inserted into a slot cut into the end of deck boards, and rests on joists.  A stainless steel screw then goes into the joist and unlike many other clip systems not into the actual Ipe. All the necessary pieces come with the kit.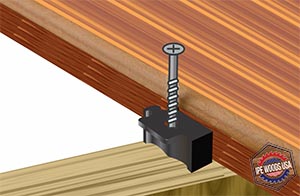 **The CAMO® Hidden Fastener can be used with ¾" decking, and even thicker decking material.
---
The CAMO® Edge Hidden Fastener System is the second method we recommend. Simply, this is the least expensive way to have a hidden fastening system when installing your Ipe deck. This system works with 3/4″ (1x) thick and 1″ (5/4x) thick boards. Using the CAMO Marksman Pro® tool you can screw into the side of the board at an angle and keep a smooth surface.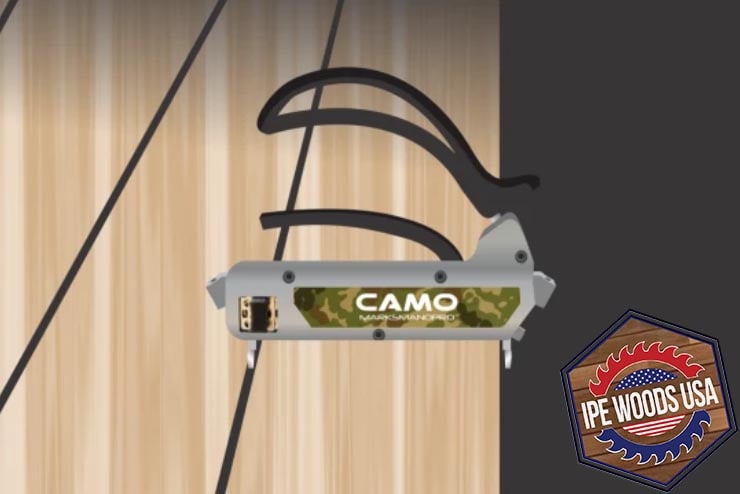 This has a few advantages.
Only have to pay for the screws and one tool.
Easier to repair boards or replace boards in the future.
Faster installation.
No predrilling (expert level, officially we still recommend predrilling) Using the Protech screws no pre-drilling is required, thus saving time.
No need to pay extra for pregrooved boards.
Pregrooved boards actual lose some thickness and width, in the milling process. Not the case when using this system.
---
Other Options (Less Recommended)
Face Screw/Plug Method  For this one, you countersink 3/8" holes into the deck boards' face.  To make things go fast and easy, pre-drill 1/8" pilot holes all the way through the deck boards.  Use stainless steel (305 grade or higher) screws to screw the boards down.  Glue (use a waterproof glue such as Gorilla brand, or epoxy) 3/8" Ipe wood plugs in the holes. Knock the plugs off with a chisel and sand smooth, using 80 grit sandpaper.

---
Finish Screws  In this method #7 or #8 stainless steel trim head screws are screwed into the decking boards. Use two per joist.  The head is so thin and small you hardly notice it.  Torx drive screws strip out less than other types.

---
Tongue and Groove Porch Decking   This type of decking is for use ONLY with covered porches or patios.  With this method, Ipe decks, patios or porches don't have to be only for spring and summer use now.  With things covered, you can enjoy them year-round.

Tongue and groove decking must be installed directly on top of the floor joists.  The deck needs ventilation underneath, so you can't install them on a sub-floor. The lumber needs to be covered, and also will need a pitch away from the house for drainage.  There are no gaps in tongue and groove decking.  Just like interior hardwood floors.
Pre-drill a hole at a 45-degree angle in the board where the tongue and face meet.  You'll see a slight v-groove in the corner. Then drive a trim head screw through that same hole.  It must be trim head screws.  The screw will sink into the groove, and this allows you to slide the next board right into place, concealing the screw head, and giving a smooth connection.
Ipe Installation Joist Spacing
Be sure you are purchasing the right dimension boards for your joist spacing.
*****IMPORTANT LEGAL STUFF*****
It is imperative that you contact your local building department before you begin designing your project.  They will inform you of any applicable codes and ordinances that will say where and what you can build.  Obtaining the proper permits is solely your responsibility.
Ipe Woods USA provides information to help you in making your selections, but will not be held liable if you do not obtain the proper permits, or if you fail to comply with all zoning ordinances and building codes. All information contained on this site is meant to be used as a reference only and is not to be interpreted as being guaranteed. In order to properly install any deck, we advise you to consult an experienced professional.
All information on this page is only a general recommendation. We are not and will not be held liable for improper installation for any reason including but not limited to information inaccuracy.  We recommend you consult a professional for all things related to installation.