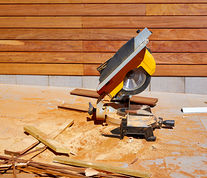 Some builders have heard about Ipe but are afraid to dive into using it because the wood is very dense. The common misconception is that it is hard to work with, because of this density. However if you are using the right blades and bits Ipe can be very easy to use on your next project. Of all the hardwoods used for decking, Ipe is regarded by most as the longest lasting and nicest wood available in the United States.
Ipe requires pre-drilling because of the density, other than that its use if very similar. When people say that Ipe is an "Iron Wood" or "Tough as Nails" it is not an exaggeration. Ipe has the same fire classification as steel and concrete. It has a differential shrinkage of 1.4% making it the best of all the hardwoods. The same characteristics that make it so dense are the ones that will keep bugs, fire and mold out also.
To be clear if you are a contractor and you are not recommending Ipe to your clients you are doing them a disservice. As someone that is consulting customers on what wood to use Ipe should always be at the top of your list. Ipe is really hands down the best wood for all outdoor applications. It lasts longer than any of the other woods, requires less treatment and is naturally insect and fire resistant.
If you feel are not recommending Ipe because it is "expensive", just realize that given the option often times customers will want the superior product. Ipe also is not much more expensive than many of the alternatives but it also lasts 2-5 times longer. This brings the cost of ownership down over the course of its life. More important than that is that the cost of maintenance is much lower than any of the alternative hardwoods. Ipe is the best recommendation you can be making for your clients outdoor needs.